DAKOTA, promotional products designer
At Dakota, we don't randomly select a promotional product ! Your products and gifts developed after a careful and long process of considerations and often designed especially for you. Our goal ? To offer you the gift which corresponds to both your brand's image and message.
A good promotional product is a product that will leave a lasting impression of the brand on your customers' mind. To achieve it, Dakota offers a unique design process. Let's discover the 8 creation stages: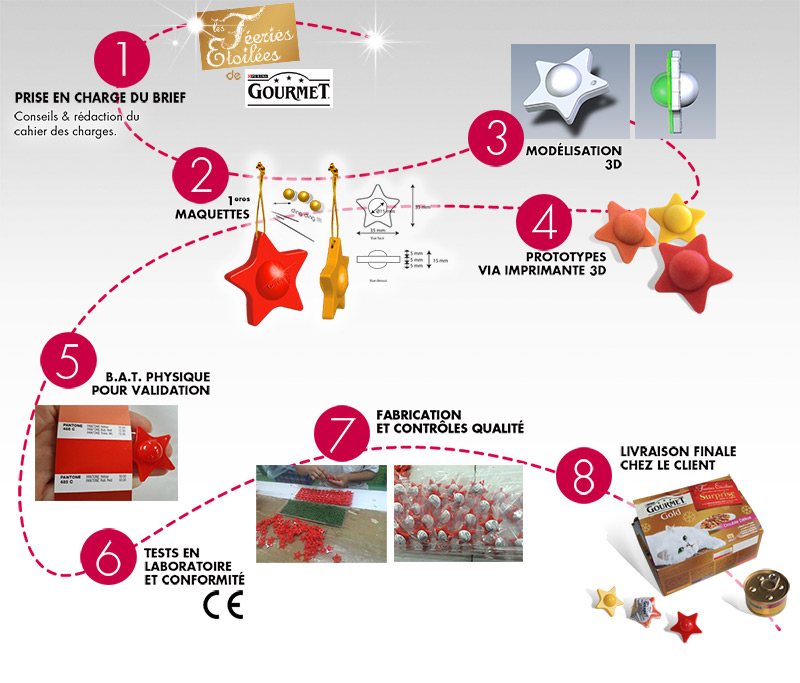 1. Brief and customer needs
Assimilation of the brand universe, target, budget, deadlines schedule and potential constraints in our products. Reformulation to check if the brief has been fully understood.
2. Models
- Presentation of the first concepts to short list products matching your brief
3. 3D modelling
- Creation, with 3D software, of the product(s) to show the concept in the most realistic way
4. Prototypes
- Proposing a 3D version of the final product's version. This step is used to show the concept in a more realistic form and size.
5. The « ready for press »
- The promotional product "number 1" is produced to control final size, color, weight and logo. It will be used as a prototype for manufacturing the whole order.
6. Compliance tests
- According to the nature of the supplied products (toys, clothing, food container,…), compliance tests are performed by certified international laboratories with recognized expertise.
7. Manufacturing and controls
- The manufacturing process starts after reception of the tests results. One to four quality controls are then done depending on the number of products to supply. The controls are performed according to the ISO 2859 norms and acceptable quality levels (AQL) are defined. AQL statistical sampling is a common technique to check if a production is in conformity to quality standards.
8. Delivery
- Our deliveries follow a rigorous process to comply with our customers' requirements (pallets size and quality, delivery time) and international standards, and proper delivery notes/orders are enclosed.
---